Soldier Ryan Wrathall took own life, coroner rules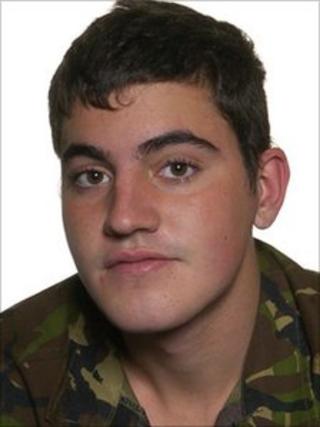 A British soldier shot himself in the head in Iraq after finding out his critically ill father was not going to recover, an inquest has heard.
Pte Ryan Wrathall, from Surbiton, south-west London, killed himself at a base in Basra in February 2009.
The 21-year-old was found in bed and had taken a large dose of morphine, West London Coroner's Court was told.
Coroner Alison Thompson recorded a verdict that Pte Wrathall had taken his own life.
Pte Wrathall, of 1st Battalion The Princess of Wales's Royal Regiment, used his Light Machine Gun to shoot himself, the court heard.
The hearing was told that the night before he died he tricked a colleague into signing his will.
His platoon sergeant, Colour Sgt Daniel Davey, was one of the first to find him.
He told the inquest: "I just heard these muffled bursts.
"I looked in on bed-space three and that's where I saw Wrathall slumped."
Sgt Davey was one of a number of people listed in a suicide note left by Pte Wrathall, who said he had been upset by the officer.
On reading this Sgt Davey said: "Obviously I was angry when I saw that, but those are Wrathall's views and obviously I respect that."
'Too much pressure'
When asked why he thought Pte Wrathall took his own life, he said: "It was obviously his dad.
"He was close to his dad and he loved his dad... his dad was the figurehead."
Each witness was asked by Miss Thompson if they had seen any evidence Pte Wrathall had been bullied while in the army, but they all said he had not.
Dr Susan Grosse, a forensic scientist, told the hearing there was morphine in Pte Wrathall's blood, but this would not have caused suicidal thoughts.
But the soldier's mother, Conchi Bullen, said he was depressed.
"He was unable to live with too many problems and too much pressure," she told the hearing.