Family heirlooms stolen on train from London to Bath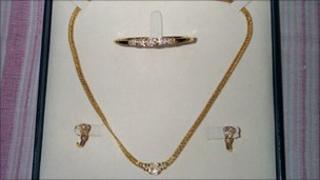 A suitcase containing thousands of pounds worth of jewellery was stolen from a train between London and Bath.
The luggage, with the distinctive diamond and emerald jewellery set inside, was taken from Friday's 2054 Paddington to Bath Spa service.
Police said the items had "huge" sentimental value to the owners.
It is not clear where the case was taken off the train, which stopped at Reading, Didcot Parkway, Swindon and Chippenham.
The luggage was put in racks at the end of the carriage and it was only when the family reached the final stop that they discovered it had been taken.
Unusual design
The suitcase also had family passports, a laptop computer and bank cards inside.
Det Con Danny Murphy, from British Transport Police, appealed for information about the theft and whereabouts of the jewellery, described by the victims as treasured family heirlooms and thought to be worth several thousand pounds.
He said: "The stolen jewellery is unique and unusual in design and some of it has been passed down through several generations of the family."
He also appealed for any passengers who saw anyone acting suspiciously to contact them.