Takeaway murder evidence youth spared jail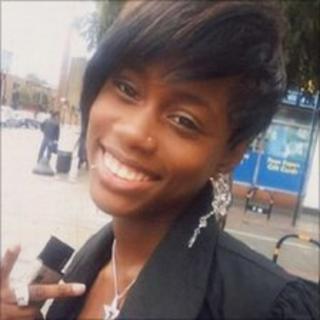 A teenage gang member who gave key evidence against the killers of a 16-year-old girl who was shot in an east London takeaway has been spared jail.
The 17-year-old, who cannot be named because of his age, faced a jail term after admitting drugs and firearms charges.
The judge gave him a rehabilitation order due to the on-going "punishment" of living under threat.
Agnes Sina-Inakoju was shot at the shop in Hoxton Street, Hackney, last year.
Leon Dunkley, 22, and Mohammed Smoured, 21, both from Hackney, were jailed in April for a minimum of 32 years for her murder.
Judge Peter Beaumont, the Recorder of London, told the youth "those men would not be serving the sentences that they are today" had the jury not believed his evidence.
The Old Bailey heard the teenager, now a college student living in a secret location with his family, was under witness protection and they had had to move five times.
Agnes, who had been hoping to go to Oxford University, was killed in the Hoxton Chicken and Pizza Shop in April 2010.
The court heard she was the innocent victim of gang fighting when Dunkley and Smoured, members of the London Fields gang, targeted the shop believing members of the rival Hoxton Boys would be there.
Heroin stash
Detectives made a breakthrough in the case when they caught the 17-year-old with a stash of heroin.
A search of his home uncovered a coat that had been worn by Dunkley when he and Smoured carried out the shooting, and gun residue was found on it.
The youth also admitted having stored guns for senior members of the London Fields gang fearing "extreme violence" should he refuse.
Brian St Louis, counsel for the teenager, said he lived under the "constant fear of reprisals".
"He came to court facing the people that he knows if their associates find him he may not see another day," he said.
The court heard the teenager would normally have been given a minimum sentence of three years for each of the gun offences alone.
Judge Beaumont him: "The risk to your life and your family's lives is real and has been assessed as high, to an extent you have already served a degree of punishment for the criminal offences you have committed and that punishment will continue, probably for the rest of your life."