Vote 2011: London says 'no' in AV referendum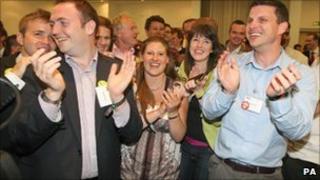 London has rejected a proposal to change the way MPs are elected.
In 27 of the 33 local authority areas the majority of voters rejected a switch from the first-past-the-post system to the alternative vote (AV).
But Camden, Islington, Haringey, Lambeth, Hackney and Southwark were among the few areas in the UK where more people voted Yes to AV.
Of the Londoners who voted, 60.47% voted against while 39.53% voted in favour.
Lambeth in south London became one the first boroughs to declare more people voting in favour of AV - 54.69%.
However, London saw 35.4% of voters take part in the referendum - the lowest turnout of all regions in the UK.
A total of 1.86 million people voted in London however which was higher than many commentators expected.
The London turnout figures were expected to be lower than elsewhere in the UK as there were no council elections taking place there.