Canary Wharf abseil to raise funds for air ambulance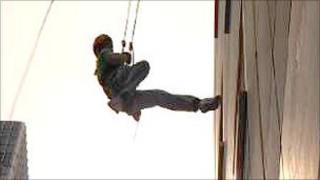 Up to 150 people plan to abseil down a building in east London docklands to raise money for London Air Ambulance.
Participants will descend a 230ft building - 20 Cabot Square - in Canary Wharf over the weekend.
Adam Gage, 21, who was rescued by an air ambulance on 7 May 2007 was among those who abseiled on Saturday.
Last year abseilers raised £64,000 for the charity service, which is funded by a combination of NHS money, public donations and sponsorships.
This is the second year the charity abseil was organised by Canary Wharf Group plc, which developed the area, and London Air Ambulance (LAA).
Dr Gareth Davies, medical director and chair of the Trustees at LAA, said he wanted to "thank all the abseilers for their support".
Dr Anne Weaver, who has worked with London Air Ambulance for the past 10 years and took part in the abseil, said the "essential service" faced "difficult times".
She said: "We do have some NHS funding and that's at risk of being cut like any other NHS resource currently.
"The charity has to do a lot of work and actually provides more resources than the NHS does, as far as the money is concerned, and we would like to make sure that all of that money stays within the service."
The event comes a day after Lady Justice Hallett, the Coroner in the 7/7 inquest, recommended a review of the funding for the crucial service.
London Mayor's office has now backed the calls for the service to be properly funded.
Richard Barnes, deputy mayor, said the capital should be "prepared to meet disasters, no matter how they occur, and it's part of that remit we could reinforce the suggestions made by the coroner."