Fulham Town Hall could become hotel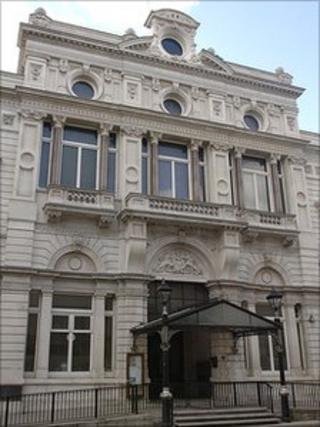 Fulham Town Hall is being offered for sale by the council and could become a boutique hotel.
Hammersmith and Fulham Council said a feasibility study on the future of the building suggested the hall and chamber could also be retained for public use.
The council has received "expressions of interest", with one firm wanting to convert the property into a hotel.
The sale of eight council properties, including the 1888-built town hall, is expected to raise £14m.
The money will go towards reducing a £133m historic debt burden, the local authority said.
Architects Hawkins Brown, who did the feasibility study for potential bidders, envisaged the town hall as a hotel, capitalising on its features.
'Particularly excited'
The Victorian property's features, like the marble staircase, treble domed vaulted ceilings, carved oak doors and period chandeliers, made it "perfect for a boutique hotel", the council said.
Deputy leader of the council, Nick Botterill, said: "We do not need, and cannot afford, two town halls.
"We want to see the building itself brought back to life as part of the biggest regeneration of the area since the Broadway development.
"We are particularly excited that there is scope to retain the chamber and halls for public use and believe that this really is the best possible solution for residents."
The town hall - which is near Stamford Bridge, home of Chelsea footballers, and Earls Court - housed parking attendants, housing officers, cemeteries staff and registrars.
Those officers who will be relocated, the council said.
The authority also owns the town hall in King Street, Hammersmith.