Eric Cantona kung fu kick fan Matthew Simmons fined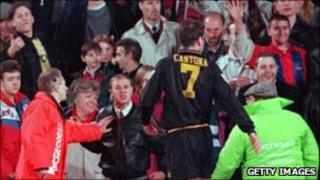 The Crystal Palace fan kicked by Eric Cantona in 1995 has been given a suspended jail sentence for punching the coach of his son's football team.
Matthew Simmons, of Thornton Heath, bore a grudge against Stuart Cooper for excluding his son from the team, Kingston Crown Court heard.
The boy was allegedly left out when Mr Cooper learnt of the link with Cantona.
He was given a six-month jail term, suspended for two years, as well as 150 hours of unpaid work in the community.
Simmons must also pay £1,000 to his victim and £2,000 in prosecution costs.
The pair clashed last August at a football pitch in front of dozens of young footballers following several years of "bad blood" over the exclusion, prosecutor Michael Logsdon told the jury.
Simmons threw a "flurry of punches", hitting Mr Cooper in the face, arm and chest and giving him a black eye, bloody nose and bruises, the court heard.
'Pre-emptive strike'
"I felt somebody spit at me, and call me 'scum'," Mr Cooper told jurors.
"The next thing I knew was just punches flying at me from everywhere, from the side and from behind."
Simmons argued he had acted in self-defence and launched a "pre-emptive strike" against Mr Cooper.
Judge Michael Hopmeier said it had been "an assault in a public place, and an aggravating factor is that there were young people in the vicinity".
Cantona kung fu kicked Simmons after being sent off in a Premiership game between Crystal Palace and Manchester United in 1995.
The French footballer was subsequently banned for nine months, while Simmons' season ticket was confiscated and he was barred from the ground.
Cantona's absence was largely blamed for Manchester United's failure to overhaul Blackburn in the title race.