Exhibition plaques mark 160 years of London Royal Parks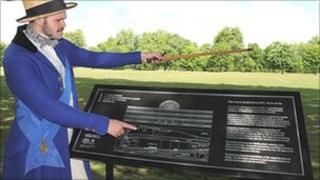 Plaques have been installed in London's Hyde Park to mark the site of the Great Exhibition of 1851 and to celebrate 160 years of London's Royal Parks.
The five plaques contain facts about the event and Crystal Palace, a temporary glass structure designed by Sir Joseph Paxton to house the show.
Eight Royal Parks across London have been opened to the public since the first World Fair in Hyde Park in 1851.
The Royal Parks said several events will be held to mark the anniversary.
Crystal Palace facts
Colin Buttery, director of the Royal Parks, said: "The Great Exhibition was the major international event of 1851 and started a tradition of the Royal Parks being a focus for landmark occasions.
"It's a tradition that continues to this day with our recent role in the royal wedding and will continue next year during the London 2012 Olympic and Paralympic Games."
The plaques, designed by artist Virginia Nimarkoh, mark the site which is 10 times the area of St Paul's Cathedral.
They also contain interesting facts about the event: more than six million people visited the exhibition over five-and-a-half months, 293,655 panes of glass were used to create Crystal Palace and the value of exhibits, excluding the Koh-i-Noor, was £2m.
The project is funded by the Royal Commission for the Exhibition of 1851 and The Royal Parks.
Crystal Palace was dismantled after the show and reinstalled three years later in Crystal Palace Park in Sydenham, south London, but it was destroyed by fire in 1936.