Stockwell shooting victim Thusha, 5, 'may never walk'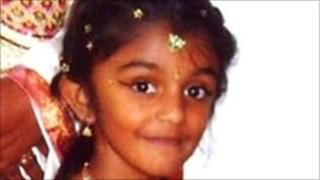 A five-year-old girl who was shot in the chest as she visited a shop in south London may have lost the use of her legs.
Thusha Kamaleswaran and a 35-year-old man, Roshan Selvakumar, were injured when a gunman opened fire at a shop in Stockwell Road on 29 March.
It is believed Thusha's spine was damaged by the bullet, leaving her paralysed from the waist down.
She was in the shop with her mother, brother, 12, and sister, aged three.
The child, who suffered what police described as "life changing" injuries, remains in hospital more than a month after the attack.
Doctors treating Thusha found she had no feeling in her legs and have told her parents that she may lose the use of her legs, according to reports.
Nathaniel Grant, 20, of Camberwell New Road, Camberwell, Kazeem Kolawoli, 18, of Black Prince Road, Lambeth, and Anthony McCalla, 19, of Oakdale Road, Streatham, were charged with attempted murder.