Heathrow Express staff vote to take industrial action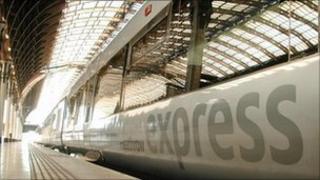 Workers on the Heathrow Express rail service have voted to take industrial action in a row over pay.
Members of Rail, Maritime and Transport (RMT) union voted for action short of a strike, after rejecting a deal from the company for the two years up to the end of 2012.
The union said Heathrow Express' offer was unsatisfactory.
Heathrow Express said the pay deal was fair in the current economic environment.
Negotiated settlement
The type of industrial action has yet to be decided.
RMT General Secretary Bob Crow said: "Heathrow Express have tabled a pay offer for this year and for 2012 which is loaded with strings and which fails to meet our members demands for a fair deal taking them through the Olympics period.
"As a result our members have now voted by a massive margin for action.
"It is now down to the company to come back to us with a proposal that properly rewards our members for the hard work they put in to delivering the successful and highly-profitable Heathrow Express service."
A Heathrow Express spokesman said: "Heathrow Express is disappointed to learn that the RMT's ballot has resulted in a vote for industrial action.
"We believe the pay deal for the next two years is a fair offer which reflects the challenging economic environment and our need to be more efficient.
"We remain committed to a negotiated settlement and call on the RMT to avoid taking industrial action that could unnecessarily inconvenience our customers."