Southwark residents 'to get Shard skyscraper jobs'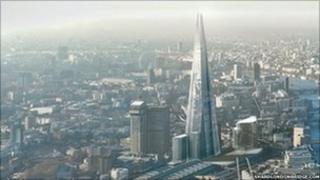 The developers behind London's tallest building have vowed to make around 150 jobs available to local people when it opens in 2012.
At 1,017ft, The Shard, based at London Bridge, will house up to 12,000 workers when the project is completed.
Developer Sellar Group said it wanted 75% of service and building management jobs to go to residents from the area.
Many of these will come via Southwark College which will offer tailor-made courses for these roles.
The policy is meant to prevent all jobs in The Shard being taken by workers from outside Southwark.
However, some residents said they were worried local people would mainly end up filling lower-skilled roles in the £450m development, which will include office space, restaurants and apartments.
James Sellar, chief executive of Sellar Group, said: "This sort of project is really successful when it grounds itself in the local neighbourhood, and we want to make sure that people in the local area relate to it."
Ruth Gilbert, chief executive of Southwark College, said: "Sellar has engaged with the community and with training providers such as ourselves and said these are the jobs we know we will need to run the building as a starting point.
"Help us to find people who can do these jobs."
Councillor Fiona Colley, of Southwark Council, said the area had seen the creation of many new jobs during the past decade, but it still had a much higher rate of unemployment than other parts of London.