West Ham 'still committed' to Olympic Stadium move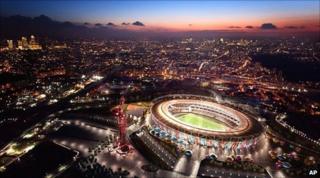 West Ham United Football Club have said they still plan to move into the Olympic Stadium, despite being relegated from the Premier League.
A spokesman for the east London team said they were "totally committed" to making the £486m venue their new home after London 2012.
West Ham are the preferred bidder in a joint bid with Newham Council.
But Tottenham Hotspur and Leyton Orient have applied for judicial reviews into West Ham's bid.
'Continuing at a pace'
The spokesman said that the club's original bid, which was chosen in March, made provisions for both Premier League and Championship football.
"As far as our plans for the Olympic Stadium are concerned, we are continuing at a pace," he said.
"All things are connected but the club will obviously set about rebuilding so that we are in a position to challenge at the highest level in the Championship and get back to the Premier League as soon as possible."
West Ham intend to convert the 80,000-seat stadium into a 60,000-seat venue, keeping an athletics track.
They are continuing with a tender to find contractors to convert the stadium, despite rival bidders Tottenham Hotspur and local team Leyton Orient applying for a judicial review into Newham Council's role in the bid.
Avram Grant was sacked as West Ham's manager after Sunday's 3-2 loss to Wigan, in which they squandered a 2-0 half-time lead.