Schools urged to claim Olympics tickets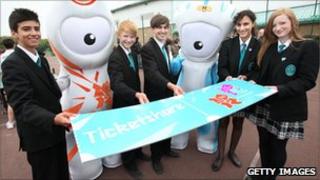 London Mayor Boris Johnson has urged schools to claim free tickets for the 2012 Olympics.
Organisers have agreed to fund 125,000 tickets for the capital's schoolchildren.
In October organisers promised to pay for 50,000 of the tickets and Mr Johnson was to find money for the remaining 75,000.
Mr Johnson said he wanted future generations to have a "ringside seat at the world's greatest sporting event".
A further 50,000 tickets will be distributed to schools across the UK.
Schools which join the organisers' Get Set education network will be eligible.
The Get Set programme was set up by the London Organising Committee of the Olympic Games and Paralympic Games (Locog).
Mr Johnson said: "I can think of none more deserving to have a ringside seat at the world's greatest sporting event than the next generation of Londoners.
"So there's not a moment to waste to ensure your school gets its tickets and embraces the spirit and excitement of the London Games during the build up to 2012."
On Monday the mayor and Locog Chairman Lord Coe visited the Compton School in Barnet, which is part of the Get Set network.
Schools must submit an application to be part of the London 2012 Get Set education network by 16 December in order to be eligible to receive their allocation of tickets.
Tickets won
Organisers have started taking money from the accounts of people whose applications for paid-for tickets have been successful.
The process will continue until 24 June, when people will be notified of the tickets they have won.
About 1.8 million people made more than 20 million applications for the 6.6 million tickets.