London Underground staff want 10% Olympic pay rise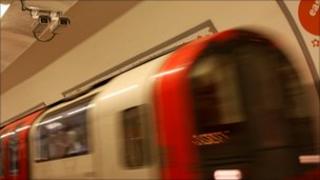 The main rail union on the London Underground is to ask for at least £500 for workers during the 2012 Olympics.
Bob Crow, leader of the Rail Maritime and Transport union, said he wanted a deal similar to one agreed for Network Rail staff of a 10% rise over two years and the one-off £500 pay increase.
He told the London Assembly transport committee he would negotiate a similar "or even better" deal.
London Mayor Boris Johnson said Tube strikes during the games were unlikely.
Mr Crow was speaking to the transport committee which was looking at the impact of industrial action on the Tube. Other unions and business groups were also due to speak.
Talks between LU and the unions over pay covering the 2012 Games are still being held and it is believed the National Rail deal is being looked at "with interest".
A spokesman for the Rail Maritime and Transport (RMT) union said it wanted what "we think is a fair renumeration for the additional workload of our members" for transporting "hundreds of thousands of extra passengers" during London 2012.
Last week, LU raised its five-year pay offer to trade unions to an initial 4.5% increase followed by an increase of inflation plus 0.25% in subsequent years.
That offer came after the union rejected LU's previous offer.
Mr Johnson, told the assembly's Culture, Media and Sport Committee: "I think it will be very, very unlikely that there will be industrial action but clearly it is important that we continue our discussions.
"We are having our pay rounds now which are progressing well and we need to get that right.
"I understand the anxiety and clearly this is something people talk about a bit but I think the overwhelming majority of workers on the London Underground are incredibly proud of what they do."
Staging the games has seen £6.5bn of investment in public transport ranging from the East London line, Docklands Light Railway and upgrades to the Jubilee line.
Mr Johnson said work on the Jubilee line to increase capacity from 24 to 27 trains an hour should be done by the end of the year, so there should be adequate time to test the system ahead of 2012.