School's trip cancelled by Devon firm Skiing Europe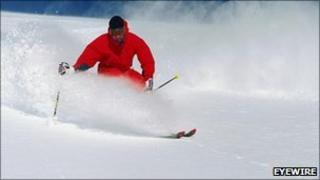 A north-west London school is among others let down by a Devon-based tour operator being investigated by police.
A BBC investigation found Quintin Kynaston School in Swiss Cottage paid Skiing Europe almost £15,000 for a trip to Austria over Easter.
But the hotel where the children would have stayed would not take them as it said it was owed money by the company.
Chris Reynard, company director, blamed "schools being so much in arrears". The school said it paid fully and on time.
The company is being investigated for alleged fraud.
Some of the 21 pupils from the school, also known as QK, who were due to travel to Austria over the Easter holiday were as young as 11 years old.
'Nearly packed'
The total cost to parents, including clothing hire and spending money, was about £1,000.
According to Tina Ward, assistant head, this would have been the trip of a lifetime.
"When you have single parents finding the money, it's so important that a trip like this goes ahead," she said.
"They were really really looking forward to it. Even a month before some of the kids were saying they were nearly packed."
The school said problems had begun when several weeks before the group was due to leave for Austria, Mr Reynard could not confirm important travel details.
It said he had proposed altering the departure date.
"It was alarm bells... I continually challenged him for the name of the coach company, nobody in the office knew anything about it and he wasn't available," Ms Ward said.
Then just days before the group were due to leave, Ms Ward said she had discovered that the hotel they had been told they would be staying in would not take them.
The hotel said it was still owed money from a previous trip arranged by Skiing Europe.
'In arrears'
"It's not acceptable to play fast and loose - the youngest child was 11."
Mr Reynard cancelled the trip just three days before the planned trip.
He told Radio 4's Face The Facts programme: "There is a consequence to so many schools being so much in arrears with their payments.
"We are currently in the process of taking action against those who are responsible for this situation."
QK organised a replacement trip with another tour operator which they paid for out of school funds.
Other schools affected in the South East include Tonbridge Grammar in Kent; Reading School, and St Helena, in Essex; Beachwood Park, and Mount Grace School, in Potters Bar, in Hertfordshire, and Chinthurst School, Surrey.