Tidal energy trial in Thames offers glimpse of future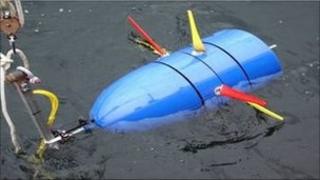 A tidal energy farm providing green energy to London could become a reality if a two-month trial proves successful.
A tidal turbine is being installed in the River Thames alongside World War II ship HQS Wellington in central London.
If the trial proves successful and does not adversely affect the environment, hundreds of turbines could be installed between Kent and London.
Energy company Nautricity said a tidal energy farm would generate enough electricity to power 35,000 homes.
'Thousands of jobs'
In addition to demonstrating how the technology works, the pilot will also give a better idea of any potential negative environmental impacts the turbines would bring to the river and its users, a company spokesman said.
He added that the project was made feasible because the design of the turbines reduced the cost of installation compared to traditional models.
Typical turbines are moored to sea and river beds at high cost in terms of financial outlay and manpower, but the model being tested uses a small turbine attached to a float, allowing the device to operate in a range of water depths.
Darren Johnson, a London Assembly Green Party member, supports the idea of a tidal energy farm in the capital.
"If this works it could open up another clean energy source for London and give us another reason to keep our rivers clean," he said.
"Renewables can close the energy gap we face in the future and create thousands of manufacturing jobs for Londoners."
If the tidal energy farm gets the go ahead from the relevant authorities and environmental agencies it would take five years and £200m to complete.