Gherkin's 1,037 steps climbed for NZ quake appeal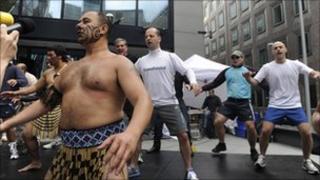 Some 1,000 people have taken part in a 1,037-step charity stair climb at London's famous Gherkin tower.
Participants were sponsored to climb the 38 floors of the London landmark to raise money for the Christchurch Earthquake Appeal.
Danny Bent achieved the fastest time of 4.56 mins, the fastest female Gillian Banks came in at 5.46 mins and the fastest team was Stairway to Heaven.
Two participants scaled the 180m skyscraper in high heels.
Some performed the traditional Maori Haka to prepare for the challenge.
The participants have raised more than £275,000 for the appeal so far.
The Step Up 4 Christchurch event was the idea of two London-based New Zealanders working for an investment banking group.
Their company, Evans Randall, which owns half of 30 St Mary Axe, or the Gherkin, has covered all costs as well as donating £50,000.
Kent Gardner, who organised the event along with Paul Kendrick, said he was pleased with the amount of money raised.
"Everyone has their own reasons for taking part and it's been a great day," added Mr Gardner, chief executive of Evans Randall.
The earthquake which struck Christchurch on 22 February 2011 claimed 180 lives, destroyed 10,000 homes and left the city without essential services.