School for 'poor and bright' in east London planned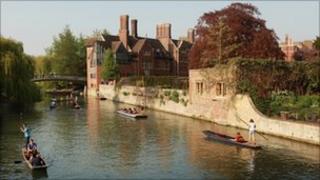 A state sixth form college exclusively for bright teenagers from poorer backgrounds may be established in east London.
A group of private and state schools have submitted plans for the project, which would open through the government's free schools programme.
The college would aim to get inner-city teenagers into leading universities such as Oxford and Cambridge.
The children of families defined as rich would be excluded from the school.
In deciding which children to allow, organisers are considering several definitions of "poor". They may follow Oxford University's threshold of a sub-£26,000 household income.
Oxford students whose families earn less than that are eligible for bursaries.
Richard Cairns, headmaster of the fee-paying Brighton College, said it would welcome clever pupils from across London.
Grammar schools
He said: "Perhaps for the first time in their lives, bright children will be in an environment where being bright is cool and doing well is the norm rather than the exception."
Mr Cairns said Oxford and Cambridge expected candidates from disadvantaged backgrounds to have five A* GCSEs, lower than required of pupils at private and grammar schools.
But he warned even this lower threshold was not being reached by many able teenagers from poorer families.
The school would only teach academic A-Levels during a school day running from 0800 to 1700.
After-school activities such as public speaking, debating, sport and community service would be compulsory.