Battersea Park playground: Gove in free play call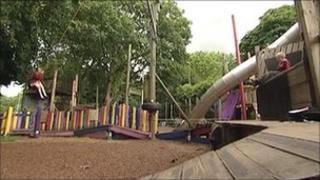 The Education Secretary has said children's playgrounds should be free, after a London council made plans to charge for entry to a play area.
Conservative-run Wandsworth Council hopes to charge parents £2.50 per child to play in Battersea Park's adventure playground.
The council says the play area is expensive to run because it is staffed.
After it was raised in Parliament Michael Gove said free parks were a "responsibility" for councils.
Shadow education minister Sharon Hodgson had branded Wandsworth Council "mean-spirited".
She said: "It plans to introduce a charge of £2.50 for all children to play on a publicly-funded playground - children who play together regardless of age or background.
"For many local children that is the back garden because they live in high-rise flats."
Conservative Mr Gove replied: "We want to make sure children can have the opportunity to play and enjoy play without fees or bureaucracy getting in the way.
"It is one the responsibilities of local authorities to ensure children have an opportunity to play freely."
'Not swings and roundabouts'
The authority said the playground costs £200,000-a-year to run.
A Wandsworth Council spokesman said: "The debate about this issue is missing a few important points.
"This is not a normal playground and we are not talking about an area that boasts swings and roundabouts.
"This is a highly sophisticated, fully staffed leisure complex, more akin to a leisure centre than a playground and one that costs more than £200,000 a year to run.
"All our normal playgrounds, plus the borough's two other adventure playgrounds will continue to be free."