Teenage 'hitman' Santre Gayle sentenced for Subasi murder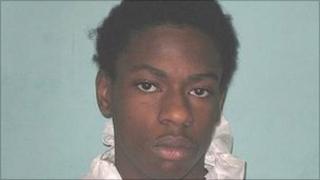 A boy who was 15 when he shot a woman dead in east London for £200 has ordered to serve at least 20 years.
Gulistan Subasi, 26, was shot on her mother's doorstep at a flat in Hackney in March 2010, the Old Bailey heard.
Santre Gayle, now 16, from Kensal Rise, north-west London, was recruited to carry out the attack because he had no connections with the Turkish community
A senior detective described the case as harrowing and said Gayle had shown no remorse.
Gayle's co-accused, Izak Billy, 22, of Willesden, north-west London, who was also found guilty of making a threat to kill, was also given a life term and jailed for a minimum of 22 years.
'Ruthless execution'
Outside the court Det Ch Insp Jackie Sebire said: "The frightening thing is his confidence and his lack of remorse. Even though he is only 15, he knew what he was doing.
"Anyone answering the door would have been shot. There were two other women in the flat that night."
CCTV footage showed Gayle resting the gun on the front gate of the flat where the victim was staying and shooting her in the chest.
Judge Stephen Kramer told Billy and Gayle: "It was an efficient, ruthless and calculated execution."
Ms Subasi's former partner Serdar Ozbek, 28, of Wood Green, north London, had been accused of ordering the shooting but he was cleared of the crime, along with four other defendants.
The court had heard that Mr Ozbek was afraid Ms Subasi, who moved to Turkey after their relationship had ended, would try to leave England with their son.
Ms Subasi, who was killed the night before her son's ninth birthday, had been due to get married in Turkey.
Gayle's criminal career dates back to when he was given a referral order for an attempted robbery when he was 14.