Mayor of London Boris Johnson 'left firms owed £2.5m'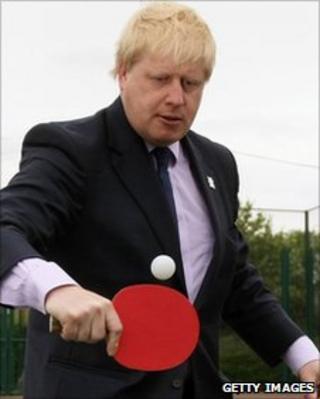 Some 200 businesses have been left owed a total of £2.5m by the Mayor of London's decision to set up a new agency promoting the capital, it has been revealed.
When the government cut the capital's promotions budget, Boris Johnson merged the tourist organisation Visit London with Think London, the capital's foreign investment agency, and Study London, which attracts foreign students.
That created the organisation called London & Partners.
However he refused to take on Visit London's pension liabilities - a fund currently facing a deficit of more than £500,000.
It has left nearly 200 past and present employees of Visit London facing cuts of more than 10% to their pensions.
That forced Visit London into administration, and more than 200 creditors have been identified, many of them small businesses owed thousands of pounds.
In many cases, London & Partners is still benefiting from the services which the companies provided but which have still not been paid for.
It is the latest twist in a growing row over pensions and unpaid bills which followed the creation of London & Partners last month.
Dan Wardle, whose company Survey Lab is owed £8,000, told a hearing at the London Assembly earlier that he might have to make redundancies.
He said: "It may not be illegal, but it's immoral."
Tim Smith's recruitment company, Bearing Partnership, recently supplied staff to Visit London.
Mr Smith says he was assured the transfer to the new agency London & Partners would have no financial implications.
Yet his outstanding invoice for £14,000 remains unpaid.
"It's a significant figure to a small business like mine in these challenging times," he said.
As administrator, Cork Gully is seeking to sell-off Visit London's remaining assets.
'Not asking favours'
But it is unclear whether pension-holders will be prioritised ahead of creditors.
Former Visit London employee Ylva French told the London Assembly of her shock and anger at the mayor's decision.
She said: "We want our pensions maintained at the level already agreed, to which we have contributed.
"We're not asking for any favours, we're not asking for sympathy.
"We're just asking for what we're already entitled to."
Last week, Boris Johnson hinted that he had made a mistake, and earlier one of his advisers signalled a re-think.
Sir Peter Roger said: "The mayor knows he has moral obligations, but he also has a fiduciary duty.
"What I've asked for is an urgent meeting, and we're happy to sit down and see if we can firstly resolve the extent of the problem and whether there are any possible ways of resolving the issue for pensioners.
"I am equally concerned about creditors."
A spokeswoman for the Mayor of London made no comment.