Upper Clapton homes flooded by burst water main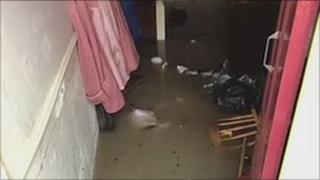 Thames Water has apologised to homeowners after a burst water main flooded an east London street.
A London Fire Brigade spokesman said 20 houses had been affected by the flood in Northwold Road in Upper Clapton.
On Thursday, 20 firefighters from Stoke Newington and Homerton fire stations had to use sandbags to try to prevent water entering people's homes.
A resident, Sam Larner, said it is the third time in two years that a main had burst on the street.
"I am angry, I am disappointed and I want to know what they are going to do about it," she said.
"My bed is ruined, I am going to have to have another new bed. My laptop is ruined. I am self-employed, I have lost all my data."
A Thames Water spokeswoman said: "We are really sorry to all customers affected by this. We are putting things right."
"Our priority now is getting the insurance process moving to get people who were flooded back in their homes as soon as possible so they can get their lives back to normal again."