Bridge reconnects River Lee towpath in Bow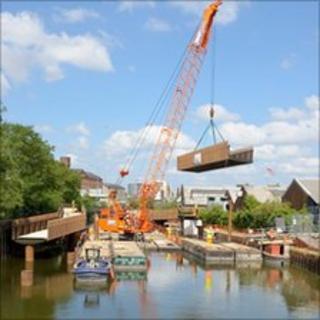 A new bridge weighing 10.6 tonnes has been installed to reconnect the River Lee towpath in east London.
The crossing in Bow will enable people to walk uninterrupted for over 28 miles from the River Thames to the Olympic Park and out into the countryside.
A floating 50 tonne crane has been used to lift the 53ft (16.25m) long bridge into place.
The £2.4m project has been funded by several organisations including the Olympic Delivery Authority (ODA).
Work to construct the pathway and bridge started in March 2011 and the scheme is expected to be completed and opened for the public by the end of July.
ODA, Director of Transport, Hugh Sumner said: "This bridge is a another link in the 80km network of improved cycling and walking routes connecting the Olympic Park and other 2012 venues as well as supporting the long term regeneration of east London."