TfL 'livid' at 'slapdash' National Grid gas job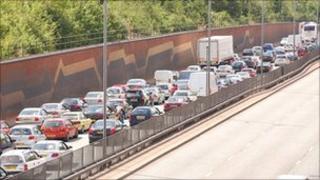 Transport for London bosses have hit out at the National Grid after workers downed tools on a repair job - despite vowing to work around the clock.
Emergency gas repair works on the A406 North Circular in Brent, north London, have seen two out of three lanes shut.
But TfL said workers left the site at 0200 BST, returning at 0700 BST - meaning the repair job spilled into day two.
National Grid said the problem stemmed from a faulty laptop.
London's transport commissioner Peter Hendy said he was "livid".
"These are emergency works and were always going to cause some disruption.
'Simply unacceptable'
"However, I am livid that National Grid has wasted five hours of closures on one of our busiest roads when they should have been getting on with repairing their gas leak.
"This is simply unacceptable."
He added: "TfL is taking this up with National Grid at the highest level to seek assurances that this kind of slapdash attitude to roadwork repairs is swiftly addressed and rectified."
On Thursday morning there were two-mile tailbacks, with TfL expecting the same situation in the evening.
A National Grid spokesman said: National Grid detected a gas escape and arranged to conduct emergency repairs to the affected gas main.
"Repairs were stopped at this time due to an equipment failure and our engineers had to halt work for safety reasons."
Work is nearly complete and National Grid claimed it would reopen at 0300 BST on 10 June, earlier than expected.
The spokesman added: "We are sorry for any inconvenience or disruption that this vital work has caused."