Serial London rapist is jailed for morning attacks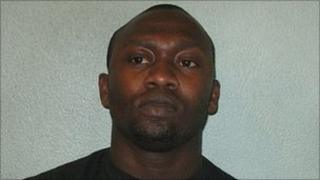 A serial rapist who attacked women walking home in the early hours of the morning, has been jailed indefinitely for public protection.
Lawrence Dugbazah, 31, from Peckham, south London, was convicted of assaulting three women in central London over a 10-week period last year.
He targeted the women as they walked home, attacking one teenager near Buckingham Palace, a jury heard.
He was jailed indefinitely for public protection at Southwark Crown Court.
Recorder Sally O'Neill QC told Dugbazah: "I have taken into account the terrifying nature of these attacks, the lasting harm done by your actions, and that they took place over a very short period of time."
Death threats
The first rape was of a 19-year-old in Bloomsbury, central London, on 9 January last year.
The attack, to which Dugbazah pleaded guilty, was caught on CCTV.
Dugbazah picked the teenager up and threw her to the floor of a cafe doorway in Museum Street, the court heard.
"While trying to subdue her, he sticks his hand down her throat to stop her screaming. He threatens to kill her," prosecutor Tana Adkin said.
Dugbazah's DNA was matched in March when he was arrested for an unrelated offence.
He was later charged with the two other assaults because they were "strikingly similar," Miss Adkin said.
The rapist pulled a 22-year-old woman to the ground in Lewisham, south London, but was disturbed by a passer-by before he could rape her on 13 March.
'Premeditated violent rapes'
Eight days later, an 18-year-old was in Palace Street, near Buckingham Palace, after spending the evening at a club in the King's Road when she spotted a man watching her.
He crossed the road and followed her, grabbed her from behind, shoved into an alcove near a shop doorway and pulled to the ground where she was raped, the court heard.
She eventually managed to get away and ran to a cab waiting further along the road.
Dugbazah was found guilty in April of the attempted rape and sexual assault of the woman in March, and rape in the third attack.
The judge said she would have sentenced Dugbazah to 18 years but assessments showed he posed a high risk of carrying out further "premeditated violent rapes".
She said: "The conclusion was that you are a dangerous offender."
Dugbazah had convictions for possessing identity documents with intent, relating to false passports, and fraud by abuse of position. He was jailed for 18 months for these offences.
Defending Dugbazah, Gary Rutter said the defendant came to the UK illegally in 1999 at the age of 16 from Ghana.