Westminster Council weekend street cleaning is halved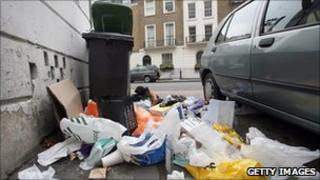 More than half the weekend street sweeping in Westminster neighbourhoods has been cut - while the West End schedule remains almost unchanged.
Conservative-run Westminster Council has cut 74 out of 144 weekend street sweepers to help save £3.75m.
The Labour opposition in the borough said it left Westminster residents "short-changed".
Westminster Council described the move as a "reorganisation" that would give "better value for money".
North Paddington, Maida Vale and Little Venice are set to be affected by the change.
Councillor Paul Dimoldenberg, Labour's leader on Westminster Council, said: "This is another example of front line services and low paid staff bearing the brunt of the Conservatives' cuts.
"Residents are entitled to feel short-changed by the Conservatives for virtually abolishing weekend street sweeping in the most densely populated residential areas.
'Tough financial times'
"Why are residents paying council tax if the Conservatives cannot even guarantee to keep the streets clean at the weekend?"
Conservative Councillor Ed Argar said: "In tough financial times we have to make difficult choices - but by making these changes we have managed to ensure the reduction to the number of street sweepers will be kept as low as possible.
"We shall be redoubling our efforts to challenge those who create this problem in the first place by dropping litter on our streets.
"We are confident that in making these changes to our street cleaning teams we will minimise any impact on frontline services."