Police praised for saving 'heart attack' woman's life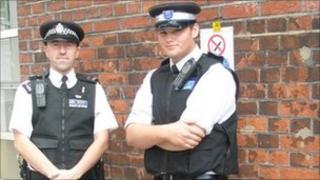 A pair of police officers have been praised for saving a woman's life after she suffered a suspected heart attack.
The victim, 62, collapsed in Woolwich, south-east London, on 8 June. She had no pulse and was not breathing.
Pc James Brown and PCSO Dan Piper, on patrol nearby, restarted her breathing using CPR and doctors said it helped save her life.
Greenwich's Borough Commander, Ch Supt Richard Wood, said the officers were "the Met at its finest".
He continued: "I am very proud. We wish the woman in question and her family all the very best for the future."
Pc Brown, 37, a children's entertainer before he joined the Met in 2001, said: "We knew we had to act quickly.
"In these situations the adrenaline just kicks in and you know that whatever you do next can make a huge difference to someone and their family."
'Indescribable feeling'
He added: "If I retire in 20 years and I have done nothing else, I will always remember the day I tried my level best to give someone a chance to live."
PCSO Piper said: "We visited the hospital today and were able to meet the woman and her family.
"I cannot describe it how it feels when someone thanks you for saving them and when you feel you have made a difference for an entire family."