Thief in stolen van kills Charles Bunyasi in Coulsdon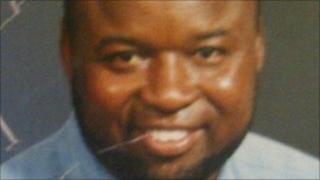 A delivery driver has died after being run over by a thief who took his van in south London.
Charles Bunyasi, 49, of Mitcham, was hit by the Ford Transit in Coulsdon on Saturday, while making a delivery. He later died in hospital.
Mr Bunyasi, a father-of-three, worked for Sutton Council and did delivery jobs at weekends.
Three men, aged 28, 47 and 61, have been held by police. The 28-year-old was arrested on suspicion of murder.
The two other men were arrested on suspicion of perverting the course of justice. All three remain in police custody.
Police said the white van had been recovered in nearby Purley.
Sutton Council chief executive Niall Bolger said: "Our thoughts go out to Charles' family and colleagues at this tremendously difficult time.
"Charles had been a member of our parks team for 12 years, working in all weathers to keep our parks clean and our playgrounds safe, carrying out grounds maintenance work and removing graffiti.
"He was a quiet and private man who worked in a very close team.
"He was well liked by his colleagues, always very willing and happy in his duties and he took a great deal of pride in his work.
"This is one London's safest areas so we are deeply upset and shocked by what has happened."
Det Ch Insp Cliff Lyons said: "Mr Bunyasi was a hardworking man who was in the process of making a delivery to help support his family.
"It is a tragedy that he has lost his life in this manner."
A post-mortem examination will be held later on Monday.