Tube strike during Wimbledon 'blackmail': Jeremy Hunt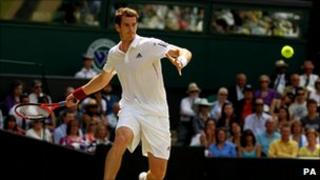 The culture secretary has accused a union of using "blackmail" for planning Tube strikes during the Wimbledon tennis championships.
Jeremy Hunt criticised the Rail Maritime and Transport (RMT) union for staging the walkouts, starting on Sunday evening, the day before Wimbledon begins in south London.
The union is taking the action in a row over the sacking of a colleague.
The RMT said is was not blackmailing anyone.
Further strikes are planned in the week beginning 27 June, threatening disruption to fans travelling to Wimbledon on London Underground.
Mr Hunt tweeted: "Can't believe the RMT are planning to strike over Wimbledon.
"Feels like an utterly cynical attempt at blackmail at expense of 000's of fans."
The strikes are over the sacking of Arwyn Thomas, who has taken a claim of unfair dismissal to an employment tribunal, with the result expected by the end of the month.
RMT leader Bob Crow said: "RMT isn't blackmailing anyone.
"We've had a fully legal ballot and all we are doing is standing shoulder to shoulder with a member who has been picked on and victimised by an LU management prepared to flout employment law and ignore the judge's words in the employment tribunal.
"That's simply standing up for basic workers' rights and is clearly too much for old-school Tory right-wingers like Jeremy Hunt to stomach."
A Transport for London spokesman said: "It is completely mystifying that, having agreed with London Underground that the tribunal process should take its course, the RMT leadership is threatening strike action again.
"We committed in good faith to legal discussions ahead of Mr Thomas' tribunal.
"Unfortunately, no agreement was reached."