Kuba Dlugosz guilty over Eveline Kelmenson death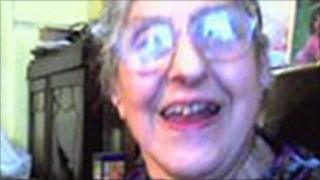 A burglar who broke into the home of an 83-year-old woman in north London, robbed her and left her to die, has been convicted of manslaughter.
Eveline Kelmenson was tied up during a raid at Leweston Place, Stamford Hill, in 2008, but could not free herself.
She died from hypothermia and her body was discovered five weeks later.
Kuba Dlugosz, 33, of no fixed address, was found guilty of manslaughter at the Old Bailey. The jury is considering charges against a second man.
Szymon Wyrostek, 26, of Tottenham, north London, has denied manslaughter, burglary and robbery.
'Absolutely terrified'
Miss Kelmenson had her gold necklace and key pendant pulled from her neck during the raid, and a wedding ring which had been a family heirloom was also taken.
Police were sent to her home on 1 January 2009 after concerned relatives said they had not heard from her.
Her bound body was discovered lying on the floor by her bed. She was still in her nightclothes.
The break-in had happened more than a month earlier, on 27 November 2008, the Old Bailey heard.
Miss Kelmenson was "a defenceless and vulnerable woman", said Det Ch Insp Stewart Hill, who led the Metropolitan Police investigation.
"She must have been absolutely terrified the night Dlugosz entered her home and restrained her on the floor," he added.
"She had no means to escape, could not raise the alarm and died a slow death on a freezing floor."