Queen and Duke of Edinburgh visit 10 Downing Street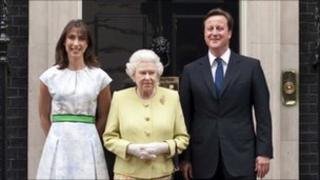 The Queen and the Duke of Edinburgh have made a rare visit to Downing Street - thought to be their first since 2002.
David and Samantha Cameron were hosting a lunch to celebrate the Duke's recent 90th birthday.
Mr and Mrs Cameron greeted their guests outside Number 10, with the prime minister calling it "a very proud day".
The Queen and Prince Phillip earlier attended a service to mark the 300th anniversary of St Paul's Cathedral.
The Royal Standard was raised as the Queen's Daimler was driven up Downing Street just after 1300 BST.
Mrs Cameron curtseyed as she shook hands with the Queen and then with Prince Philip.
The Queen was wearing a yellow jacket and white gloves, while Mrs Cameron was wearing a patterned white dress with green belt.
After pausing for photos, Mr Cameron led the group into Number 10.
The lunch menu featured a starter of stilton and watercress tart, a main course of Inverurie beef from Aberdeenshire, and a dessert of peaches and nectarines with ice cream.
The Queen and the Duke left Downing Street shortly before 1430 BST.
'Remarkable man'
Mr Cameron stood with his arm around his wife's waist as they waved goodbye.
It is believed the last time the couple visited Downing Street was in April 2002 for an event hosted by Tony and Cherie Blair, to mark the Queen's Golden Jubilee.
Earlier in June, Mr Cameron spoke of the country's gratitude for the Duke's work.
Mr Cameron described him as a "remarkable man who has given years of his service to our country, someone who has defended his nation in time of war."
He added, the Duke was "a man who has stood alongside Her Majesty the Queen for over six decades, a man who has given his time and effort and passion to so many great causes up and down the country, across the Commonwealth and indeed the world".
Earlier, the Queen and Duke of Edinburgh attended the service of thanksgiving at St Paul's Cathedral to celebrate its landmark anniversary.
The royal couple joined a congregation of cathedral staff, volunteers, guides, and City of London representatives to mark the milestone.
After the service, 60 children from St Paul's Cathedral School met the Queen and Prince Philip on the cathedral steps.