Romford Queen's Hospital: Margaret Hodge calls for inquiry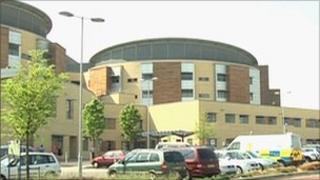 An MP has called for an independent inquiry into care at a hospital in east London where five maternity patients have died over the past 18 months.
Standards at Queen's Hospital in Romford have also been criticised by the Care Quality Commission.
Barking MP Margaret Hodge is raising the issue in Parliament and said it was also a "scandal" a new maternity unit at Barking Hospital was still not open.
Queen's Hospital said 60 extra midwives were recruited to deal with a shortage.
In April inspectors identified major concerns in two areas - patient care and staffing - and minor concerns in four others, including lack of equipment, staff training and record-keeping.
The report came three months after two midwives were suspended following the death of Tebussum Ali, known as Sareena, and her newborn baby.
Staff had failed to spot signs of her ruptured womb and tried to resuscitate her with a disconnected oxygen mask.
'Something wrong'
Ms Hodge, who has secured a Commons debate on the matter, said she kept hearing about "bad experiences" at the hospital.
There was "something wrong with the culture" of the hospital, she added.
Mrs Ali "was in labour and she was in excruciating pain and for two hours nobody checked on her - and by that time it proved to be too late", Ms Hodge said.
The MP sought "urgent intervention" at the hospital and opposed the planned closure of the maternity unit at King George Hospital in Ilford, saying it would add "pressure" on Queen's Hospital.
The chief executive of the Barking, Havering and Redbridge University Hospitals NHS Trust, Averil Dongworth, said staff had "worked tirelessly over the past six months to make enormous improvements, and I would hope that the House of Commons debate would recognise that".
"We have employed more than 60 extra midwives and introduced a new reception system for women in labour and all of our midwives are involved in rigorous training sessions," she said.
"With 10,000 babies delivered each year, sadly not every birth goes as planned."