Tube bosses and RMT talk after driver dismissal ruling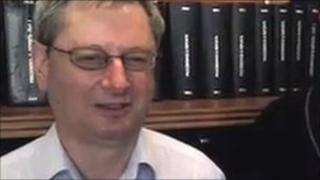 London Underground (LU) and the Rail, Maritime and Transport (RMT) union are holding talks after a tribunal ruled a sacked driver was unfairly dismissed.
The RMT had called four days of strikes over Arwyn Thomas's sacking for alleged unacceptable behaviour towards staff.
An employment tribunal found he was partly to blame but said options other than dismissal should have been explored to discipline the driver.
The government has said the union was behaving in an "irresponsible way".
The union has said it will withdraw three further strikes planned for next week if the Northern Line driver is reinstated.
But following the ruling on Wednesday, the managing director of LU Mike Brown said the tribunal had not called for Mr Thomas to be reinstated.
No-strike plans 'positive'
Transport Minister Theresa Villiers told the Commons: "In terms of a change to strike law, this government is not rushing to any kind of confrontation with the unions," she said.
"But Mr Crow and his colleagues at the RMT must recognise that the more they behave in an irresponsible way, holding London to ransom, the more they strengthen the argument of those who do want to see a change to strike law."
Mr Brown is meeting Mr Crow to "strongly urge" the union to withdraw planned strikes as the tribunal found that the action against Mr Thomas was not related to his union activities, a Transport for London (TfL) spokesman said.
Mr Crow said: "The tribunal found that 'no reasonable employer' would have dismissed Arwyn.
"Even the percentages that LU are drawing attention to show that the company was 50% at fault and should be prepared to accept their responsibilities."
"The outcome proves our point that the disciplinary process should be used for corrective not punitive means", he added.
Union members walked out for six hours on Sunday and a further 15-hour strike is planned from Monday evening to Tuesday lunchtime.
A separate 24-hour walkout is scheduled to begin next Wednesday lunchtime and nine hours of action is proposed on the following Friday afternoon.
The chair of the London Assembly Transport Committee, Caroline Pidgeon, said industrial relations were at an "all-time low".
She said: "I don't think this mayor and Transport for London have taken industrial relations seriously.
"I think they are at an all-time low.
"I think what they need to do now is to get around the table, talk to the unions, work with the unions to make sure that everyone can get about their everyday lives without being held to ransom by the unions."