Visit London staff pensions safe, City Hall says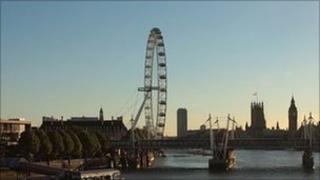 Former employees of Visit London, the tourism board which has gone into administration, will receive full pensions, City Hall has said.
Nearly 200 people faced uncertainty over their funds after Visit London was placed in administration on 1 April.
London & Partners, which took over from Visit London, had said it could not afford to take over the scheme.
But the Greater London Authority has provided £3m so neither ex-staff nor other creditors are left out of pocket.
Last month it emerged about 200 businesses were owed £2.5m following the merger of Visit London and Think London - the capital's foreign investment agency - and Study London, which attracts foreign students.
Visit London's pension fund was facing a deficit of more than £500,000 at the time and between £7m and £9m would have been required to wind it up.
Dee Doocey, who chairs London Assembly's Economy, Culture and Sport Committee, said the deal would be "a great relief to all of those businesses owed money, and members of the pension scheme who faced uncertainty".
"We welcome the agreement, but questions still remain about the way decisions were made and how this situation arose in the first place," she said.
A full report is being published later this year on the complications which arose from disbanding the three organisations.