London's transport future? 'Docking' tram idea unveiled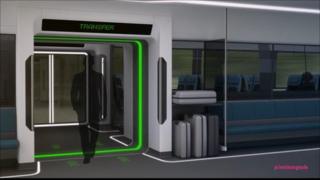 Trams are emerging on London's political agenda again with the Labour mayoral candidate Ken Livingstone talking about a network of trams linking north London suburbs.
But what about this for an idea that is way out there; trams which 'dock' with high speed trains while they're moving, reducing the number of stations required.
Yes, it's very Star Trek, and one heck of a big idea, but it's emerged from design agency priestmangoode.
This is how the agency describes it:
"Moving Platforms is a completely inter-connected rail infrastructure where local trams connect to a network of non-stop high speed trains enabling passengers to travel from their local stop to a local address at their destination (even in another country) without getting off a train."
Anyway, check out the agency's video.