Wimbledon: Planned demo thwarted by staff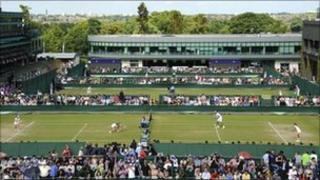 A group of 14 people planning to hold a demonstration at the Wimbledon tennis championships have been stopped.
Gates were opened after a 45-minute delay as a democracy campaign group tried to smuggle banners and paint inside the venue.
Organisers feared 14 Spanish activists, wearing yellow T-shirts, planned to target Rafael Nadal's match.
The protesters were denied entry as they queued to enter at about 1030 BST, the Metropolitan Police said.
'Strengthening' security
The campaigners were believed to be linked to a group called 15M London, which has a movement in Spain where it was founded.
A message on the group's website read: "Important: don't go to Wimbledon - mission aborted."
The organisation has led large demonstrations in Spain to protest against economic conditions which have led to high youth unemployment.
Ian Ritchie, chief executive of the All England Lawn and Tennis Club, security at the grounds has been increased.
He said: "We put a particular message out looking at strengthening the presence on the court.
"We have service stewards from the armed forces - we have 650 of them. They are hugely equipped to deal with the situation as well as the G4S security.
"For all we know, we have to be prepared for people coming back in on Monday.
"We have tried to do everything we can and will continue to monitor it hour by hour."
Personal security for Nadal and other Spanish players remained unchanged, he added.
A Met spokesman said: "At approximately 10.30am today a number of people were stopped in the queue at the tennis for Wimbledon and items were also found near to this group, believed to be for use in a demonstration or publicity stunt.
"The police informed the All England Lawn Tennis Club which delayed the opening of the gates where additional searches took place.
"A number of individuals are not being allowed access to the tennis following the searches.
"No arrests were made."