Mitcham homes still without gas 10 days after flooding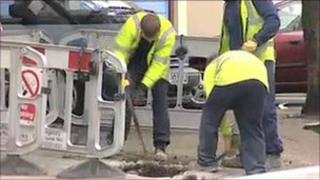 About 250 homes in south London are still waiting to be reconnected to the gas network 10 days after the gas mains were damaged by a burst water pipe.
Southern Gas Networks turned off the supply after the force of the flooding in Phipps Bridge Estate, Mitcham, ruptured the gas pipe on 17 June.
The company said it had to pump out 250,000 litres of water which flooded the gas mains, affecting 3,000 homes.
It had hoped to reconnect the 250 homes by Saturday night but work is ongoing.
About 100 of these properties were mostly in Illingworth Close and Gale Close.
The firm said its engineers called at the remaining 150 homes to reconnect the supply but were unable to get access.
Denis Kerby, spokesman for Southern Gas Networks, said: "Its an extraordinary event. A lot of water has gone in.
"Everyone's been affected in this area and what it means is we have to turn everybody off and we have to get the water out, which has been a major effort for us, and then we have to go back individually and turn all the gas supplies back on."
The firm has promised to pay a compensation for £30 for every 24-hour period, after the first day of disruption, to every customer.
After the gas supply is restored the company said it has to repair the 250 holes its engineers dug in the ground over the next few weeks.