2012 Lives: Basketball legacy 'outrage'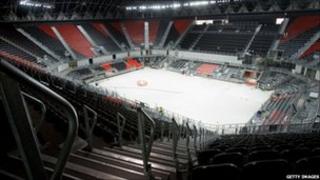 The head coach of the Brixton Topcats Basketball team, believes the legacy plans of the London 2012 are farcical for basketball.
Jimmy Rogers, who has coached the likes of Chicago Bulls player and GB team captain Luol Deng, is frustrated that there will be no full size basketball court in London left after the Olympics.
"There is no one more passionate about the Olympics than me, but I don't agree with the Olympics in London. There is going to be nothing remotely like a legacy in London, because what they say and the reality is two different things.
"The Olympics is one year away and there is not one full time basketball court in London, I think it is an absolute outrage."
'Missed opportunity'
Mr Rogers feels that basketball at grass roots level is being forgotten.
He said: "I would have liked to see the money invested in grass roots, sadly that opportunity is being missed."
British Basketball said it was working with the Olympic Delivery Authority to discuss the potential for the handball arena to become part of the legacy for basketball and a year-round basketball facility.
It said that grass roots development was the responsibility of the home nation federations but confirmed plans for a basketball-specific product in schools were in the process of development.
In a statement, British Basketball said: "There is a new 4-court facility being built at the University of East London and a 4-handball court size practice arena is also being built in Barking which could be available for basketball post 2012."
This article was created by Rhian Hughes as a piece of User Generated Content.