Owners of dangerous dogs in Enfield given support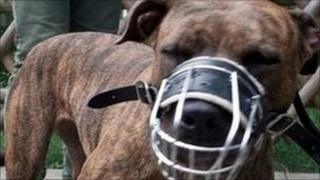 Owners of dangerous dogs in a north London borough are to receive advice on how to control their pets in parks.
Dog owners in Edmonton, Enfield, will receive support from Parkguard Ltd, which works on behalf of the local authority and the police.
Council patrol officers will also be taught how to identify dogs which could cause problems for park users.
The scheme will run for 12 months and will take referrals from police and the housing department.
Councillor Christine Hamilton, cabinet member for community safety, at Enfield Council, said: "Since this time last year there have been a number of dog attacks on people, their dogs and other animals in our parks, so Enfield Council is taking this very seriously.
"Many residents have told us that they really enjoy using our parks and open spaces but fear some of the dogs they encounter running free in them, especially if they have young children."
The Dangerous Dogs Act 1991 bans the breeding and sale or exchange of four kinds of dog - pit bull terriers, Japanese Tosas, the Dogo Argentinos, and the Fila Brasileiros.
Cross-breeds of those dogs are covered by the law.