Marvin Henry killed in Mill Hill for 'bin humiliation'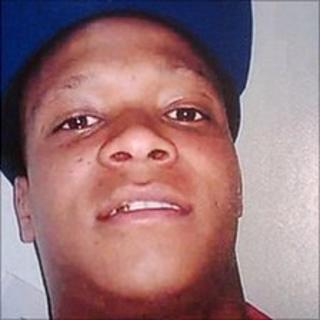 A boy was shot dead in north London to avenge the "humiliation" of a rival who was put in a dustbin by the victim during a row, the Old Bailey has heard.
Marvin Henry, 17, of Mill Hill, was shot on a former RAF barracks near Bray Road, Mill Hill, last October.
He had put Shervin Irvani, 20, in a bin after a row at a party, the jury heard.
Mr Irvani, of St Albans, Ithai McPhee, 21, of Edgware, Rafik Hamaizia, 18, of Highgate, and Rory Faley, 21, of Finchley, north London, deny murder.
Crispin Aylett QC, prosecuting, said: "You can easily imagine how humiliating it must have been for Shervin Irvani, so he recruited his friends to help him get even."
'Dented ego'
Marvin was killed "for no other reason than he had ruffled the feathers of Shervin Irvani".
"He had dented his ego," Mr Aylett told the court.
Marvin fled to hide with friends in an alley after shots were fired. He was fatally shot in the chest "as he ran".
The barrister said: "You may think it is as remarkable as it is alarming that someone could be so brazen as to stand there firing a gun at will while aiming at young men hiding to protect themselves in an alleyway.
"It is the sort of thing you might see in the cinema, not on a housing estate in Mill Hill."
The trial continues.