Arsenal and England player Jack Wilshere 'in fight'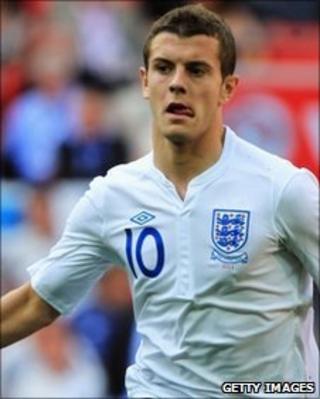 England and Arsenal star Jack Wilshere was part of a group which hurled homophobic insults before a fight began outside a nightclub, a court has heard.
Kimberley Plested, whose arm was broken in the scuffle, was at a west London club for her 21st birthday, a jury heard.
One of Mr Wilshere's friends insulted Ms Plested before a fight began, Isleworth Crown Court heard.
Two of Miss Plested's friends deny affray during the incident last August.
Mr Wilshere was given a caution last November for common assault for his involvement in the incident and his friends, Adam Mardell and Duane Brailsford, admitted affray.
Miss Plested's friends, Bradley Martin, 23, and Elliot Fowler, 24, both from Farnham, Surrey, deny affray and are currently on trial.
Prosecutor Warwick Tatford read a statement from Chris Osbourne, a business developer who was out with Ms Plested.
'Wearing pink'
Mr Osbourne said in the statement he had gone outside the Amika club with his friend Ben, and Ms Plested was sitting nearby.
He said he had been there for about 10 minutes when one of "Wilshere's group" made a sexually derogatory remark about her, which they ignored.
Mr Osbourne's statement read: "Then one of the lads said the words: 'Is it the poof brigade?' and made comments about us wearing pink.
"I suddenly became aware it had erupted as I saw one of the males grab Ben by the lapels of his jacket and was invading his personal space."
Another witness, limousine driver Ronald Baer, said he saw "two men having a go at each other and there was a kung fu kick".
"I have no idea who did that but it made contact with someone," he added. "I heard a wince of pain and it was a female voice."
Mr Wilshere was trying to round up people and usher them away, Mr Baer said.
The footballer, who was out celebrating a Premier League victory, is not expected to appear as a witness during the trial.
The case continues.