Battersea Park fee reconsidered by Wandsworth Council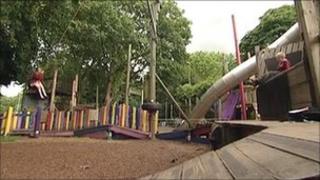 Plans to charge youngsters to use a playground in south-west London at weekends are to be reconsidered.
Wandsworth Council had proposed a fee of £2.50 per child at Battersea Park's adventure play area, saying it was costly to maintain as it was staffed.
Education Secretary Michael Gove said it was important such parks were free, while his Labour shadow Sharon Hodgson called the idea "mean-spirited".
Residents' comments were to be assessed "more fully", a councillor said.
"We have listened very carefully to all the suggestions and points of view that have been made on this issue, and feel it would be right and proper to explore these more fully before looking at this matter again," said Kathy Tracey, Wandsworth's spokesman for children's services.
The annual cost of running the park is more than £200,000, the Conservative-run council said.
The authority said this was because the area was supervised by qualified staff and had other attractions, such arts and crafts workshops and sports coaching.
'Back garden'
But five local families argued the decision was unlawful, saying they had not been properly consulted and many parents would not be able to afford the charge.
When the issue was raised in Parliament, Mr Gove said it was "one of the responsibilities of local authorities to ensure children have an opportunity to play freely".
Mrs Hodgson, the shadow education secretary, said the playground was a "back garden" for many local children living in tower blocks.
Councillor Tracey said there was "no question of charges being introduced at our normal playgrounds, or at the borough's two other adventure play centres".
The council had to make £30m of cuts in the next year and was suggesting only "a very small charge" in Battersea Park, she explained.