Does social media work for train companies?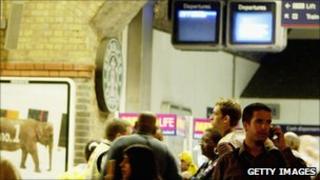 Over the last two days there's been more criticism aimed at some train companies and their inability to provide meaningful information when something goes wrong.
On Monday night I spoke to commuters at Charing Cross who had no information from Southeastern Trains about which services were running into Kent.
It reminded me very much of when I was there six months earlier during the snow and commuters were also complaining about exactly the same thing.
From my point of view it looked like nothing had changed, even though the company had made promises that it would look at the issue.
Last night, I was at Kings Cross and saw the disruption there caused by a lightning strike.
Of course, it's difficult to compare types of disruption but both stations were similarly full of hot, angry and annoyed commuters.
Personalised feeds
At Kings Cross, the information boards weren't showing much. However, I noticed a lot of commuters were looking at their phones to get information.
In fact, many were getting updates from Twitter through @FirstCC.
Not only was this an update on disruption, this feed was personal, and whoever was doing it was trying to do their best to explain the problems to commuters.
This meant there was some information getting through - and I believe the Twitter feed even told commuters train platform numbers before they were displayed in the station. That's pretty good.
First Capital Connect are by no means perfect but this is a newish development, and I'm told the use of social media is now part of some train companies' strategies and franchises.
The main National Rail Enquiries feed @nationalrailenq gives a very good overview of general disruption but, as well as that, some train companies are developing their own feeds to deal with customer services (and inevitably complaints).
National Rail Enquiries has been going for two years and has now got 48,000 followers across its feeds.
'Franchise commitment'
It's had a Facebook page for two months and has now received 12,000 "likes" across its range of pages. All their links are here.
Last night I noticed amongst the frustration and undoubted angry messages aimed at @FirstCC (4,731 followers) there were commuters thanking the person behind the feed for their help.
Other train firms' Twitter accounts which I have been told set the pace in this are @LondonMidland (6,682 followers), @virgintrains (8,007 followers) and @chilternrailway (2,588 followers - run by Emma, Nicola & Jo).
Emma Gascoigne, at Chiltern, tells me: "We introduced Tweet the Managers this year too - where we publish a manager that will be live on Twitter and people can directly ask questions and use a hashtag to follow the session. The next is happening tomorrow with our Performance Director, Andy Hamilton from 1700-1800: the hashtag is #ttmand.
"We did Tweet the Managers because we recognised that Twitter was a good way for people to talk to our managers on the go, so we do two of these a month and it's kind of like a social spin-off from our Meet the Managers. This is now a franchise commitment."
Other companies that have accounts are First Great Western (@FGW), @eurostarcomms (1,455 followers) and @TPExpressTrains.
Scared to interact?
But many of the others don't have their own customer service Twitter feeds - and that includes Southeastern Trains whose customers I spoke to on Monday night. (Although, I notice plenty of angry commuters have set up "fake" accounts in their place.)
My point is this: I'm not saying having a Twitter feed instantly makes you a decent train company - it certainly won't get rid of complaints about fare increases and cramped conditions - but it does at least indicate you are trying to engage with your customers.
With so many commuters owning smartphones, it does show you are willing to discuss problems and issues that are bound to arise with a train network.
I'm told from within the industry the perception is that companies that aren't engaging with social media are seen as being scared to interact, and are regarded as being out of touch with their customers and modern technology.
So, do you learn anything from a train company's Twitter feed? Do they work?
Is there a Twitter feed I have missed?
And is the lack of them symptomatic of a wider corporate attitude to the commuter? Or am I just being unfair?