Man wanted after tights attack on girl in South Ealing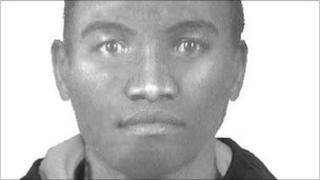 An e-fit picture has been issued by police seeking a man who stole the tights of a 12-year-old girl during a sexual assault in west London.
The victim was walking in Creighton Road, South Ealing, on 10 February when she was approached by the man.
He put his arm around her, asked for her tights and tried to remove them when she refused. Eventually she gave them to him so he would not harm her.
Police said the man was about 5ft 10ins (1.78m) and was around 20 years old.
He had either a tattoo or a scar on his neck or neckline, Scotland Yard said, and was wearing a black puffa jacket and dark trousers.
There have been no reports of similar cases and this kind of incident is extremely rare, police added.
Officers from the Metropolitan Police's Sapphire Unit, which investigates crimes of a sexual nature, have not been able to establish a motive for the assault.