Metropolitan Police say 175 murder suspects on bail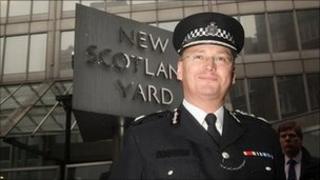 The Metropolitan Police have said there are 175 people on police bail for murder, attempted murder and conspiracy to murder in the London area.
The High Court recently ruled that police bail should be limited to a maximum of four days.
Forces had regularly released suspects on bail for weeks, or even months, while investigations continued.
Met Commissioner Sir Paul Stephenson said the consequences of the ruling could be "serious".
Sir Paul said it was "new territory" and the force was profiling the most serious bailed suspects to ensure they were dealt with appropriately.
He added the Met currently had 14,029 suspects on bail for all types of crimes.
Emergency legislation
The commissioner told the Metropolitan Police Authority there was a "significant likelihood of requiring primary legislation" and he had raised the matter personally with the home secretary.
Fresh guidance to police custody officers in England and Wales followed a ruling in the case of murder suspect Paul Hookway - involving Greater Manchester Police - by Mr Justice McCombe in the High Court in May.
It says officers will have to re-arrest suspects in order to detain or question them again beyond the four-day - or 96-hour - period - but may only do so with "new evidence".
Guidance from Scotland Yard says police will also no longer have the power to detain a suspect who breaches their bail conditions or fails to surrender.
Meanwhile Greater Manchester Police have been granted permission to appeal to the Supreme Court over the ruling and the case is due to be heard on 25 July.
The change reverses more than 25 years of police practice.
Home Secretary Theresa May is considering emergency legislation to minimise the impact of the judgment.
Mrs May has expressed "great concern" over the ruling's effect on policing.