Johnson urges London schools to claim Olympics tickets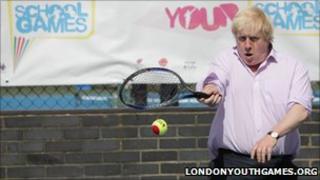 Mayor Boris Johnson joined youngsters at the London Youth Games to urge schools to claim free tickets for the 2012 Olympics.
The mayor and Culture Secretary Jeremy Hunt met some of the 750 young competitors at the Crystal Palace National Sports Centre earlier.
Some 125,000 free tickets are being provided for the capital's schoolchildren.
Mr Johnson said he wanted them to join in the "most amazing show on Earth".
In October, organisers promised to pay for 50,000 of the tickets and Mr Johnson was to find money for the remaining 75,000.
A further 50,000 tickets will be distributed to schools across the UK.
Schools which join the organisers' Get Set education network will be eligible.
The Get Set programme was set up by the London Organising Committee of the Olympic Games and Paralympic Games (Locog).
Mr Johnson said: "When the Olympic and Paralympic Games roll into town in 2012 I want as many of the kids competing today to have a chance of getting their own front-row seats so they can soak up the excitement.
"With just under six months to go before the Get Set deadline is up I urge school kids, teachers and parents to make sure that their school doesn't miss the boat."
Schools must submit an application to be part of the London 2012 Get Set education network by 16 December in order to be eligible to receive their allocation of tickets.