Pall Mall two-way traffic in Piccadilly Circus revamp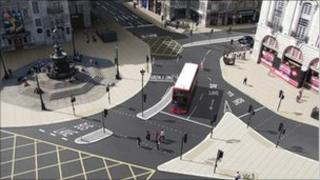 Traffic has begun running both ways along one of the busiest roads in London's West End after the first stage of a £14m revamp was complete.
On Monday morning, traffic ran both ways along Pall Mall for the first time on a weekday since 1963.
The project is part of a plan to "open up" Piccadilly Circus to pedestrians and vehicles.
The scheme is expected to be finished by November 2011, Westminster City Council said.
'Safer streets'
Lee Rowley, Westminster council's Tory cabinet member for transport, said: "Over the years, traffic has tried to beat the congestion by going down side streets."
"A two-way traffic system will reduce congestion on these streets."
"In the next few months, we will be making the area more pedestrian-friendly by uprooting a kilometre of railings," he added.
"Removing the railings will make the streets more fluid and safer."
A central island has been built along Piccadilly and Pall Mall and the pelican crossing in Pall Mall by St James's Square is being replaced with a zebra crossing.
Mr Rowley said: "We will be giving the area a facelift for the Olympics by creating a better flow of traffic by people who want to drive in and people who want to get in by foot should also be able to get around more quickly."
The scheme affects the area leading to St James's Park and Horse Guards Parade, which will be in focus during the Olympics as beach volleyball, marathon, triathlon and road cycling events are held in the vicinity.
The project is being jointly funded by Westminster City Council (£3.5m), Transport for London (£7m) and The Crown Estate (£3.5m).