Michelle Samaraweera murder: New Delhi airport arrest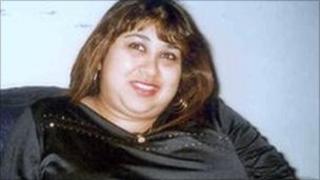 A 26-year-old has been arrested in India in connection with the murder of a 35-year-old woman who was raped and strangled in east London two years ago.
Michelle Samaraweera, 35, was found in a small park and play area in Queens Road, Walthamstow, on 30 May 2009.
The man, who was arrested at New Delhi airport, is also wanted in connection with three other assaults.
The Metropolitan Police will now be seeking the man's extradition to the UK.
Ms Samaraweera had been strangled and raped as she returned to her boyfriend's address after going to a local supermarket.
Distressed state
Police launched the investigation into Ms Samaraweera's murder, close to the junction with Markhouse Road, and three other DNA-linked sexual assaults in the Walthamstow area, in 2009.
The first occurred at 0100BST on 24 March 2009 as a 59-year-old woman was walking to her home near Queens Road.
She approached her front door and noticed the suspect standing nearby. She walked around him and as she entered her property he forced his way inside, raping her in her bedroom.
The second assault took place at 0100BST on 22 April 2009 and involved a 46-year-old woman who had been walking along Lea Bridge Road with the suspect attempting to talk to her when she was forced into an alleyway near to St James Street rail station.
She was raped before the suspect fled, warning her not to leave the scene.
The third attack occurred at 0130BST on 29 April 2009 in the grounds of St Saviour's Church, Markhouse Road.
A 32-year-old woman had been walking towards the same Somerfield store as Miss Samaraweera when she realised a man was following close by.
The victim has no further recollection of the attack but a member of the public heard noises and called police.
Officers arrived shortly after to find the victim semi-clothed and in a distressed state in the churchyard.
The information about the three sex attacks emerged after Miss Samaraweera's murder.