Residents oppose Brentford tower block plan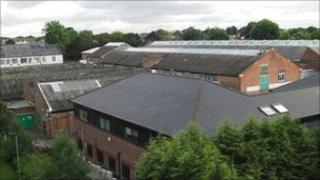 Residents in west London have raised objections to plans for a housing development that would see four tower blocks built on their doorstep.
Developers want to build flats and houses, housing up to 1,000 people, on the site in Windmill Road, Brentford.
Campaigners say the scale of the plans are not in keeping with the area and would put a strain on local services.
But developers claim it would make a positive contribution and make the area a more attractive place to live.
A consultation on the proposal has been extended until 13 July.
Under the plans industrial units on the Reynard Mills Trading Estate, that were once home to the BBC archives, would make way for 315 new dwellings.
'Much-needed homes'
The proposals include four blocks of flats, between three and seven storeys high, as well as town houses.
A spokesperson for the project said it would deliver much-needed new homes, including affordable housing, and reinforce the residential nature of this part of Brentford.
But residents said the plan was both out of scale and character with the area.
Antoinette McGovern, spokesperson for the Windmill Road action group, said: "This is a high-rise, high-density development in a low-rise, suburban area."
People living nearby fear limited parking will result in more cars being parked in surrounding streets, further congestion in Windmill Road and increased pressure on GP surgeries and other services.
Ms McGovern said: "This is not nimbyism. We are not opposed to building housing suitable for the long term.
"We want to create a place for families and a place in which the community can continue to grow.
"At the minute that is under threat from massive over development."
Hounslow Council, which is due to consider the plans next month, said residents' views would be taken into account.