Boys, 14 and 15, held over Yemurai Kanyangarara murder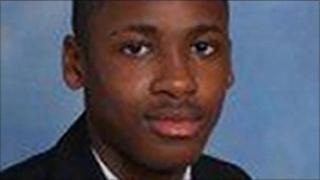 Two teenage boys have been arrested over the murder of a schoolboy stabbed in the neck in south-east London.
Yemurai Kanyangarara, 16, from Belvedere, died after being stabbed as he got off the number 96 bus in Upper Wickham Lane in Welling on Friday.
Two boys - a 15-year-old, from Peckham, and a 14-year-old from Camberwell - were arrested on suspicion of murder.
Yemurai, who went to St Columba's Catholic Boys' School, Bexleyheath, had moved to Leicester to avoid violence.
Yemirai, who had just finished his GCSEs, came to the UK from Zimbabwe as a toddler.
He had been living with his father in Leicester, after concerns over violence in the capital, and had come to London only to sit his exams, his friends said.
He was with a friend at the time of the attack.
Yemurai was the eighth teenager to be murdered in the capital since January.